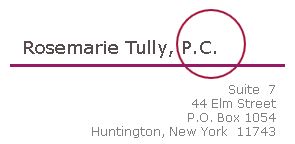 44 Elm Street, Suite 7, Huntington, NY  11743
631-234-2376
Rosemarie Tully, P.C. represents and counsels clients in the areas of Entertainment Law, Copyright Law, Music Licensing, Sports Law, Business Law, Real Estate Law, and general legal matters.
Our clients include publishers, production and distribution companies, screenwriters, producers, actors, sound studios, record labels, artists, authors and composers.  We manage a wide variety of matters & transactions for our clients, and provide guidance in general business matters and individual legal issues.  We provide sound legal solutions for our clients in all areas of their business related activities. We understand the law and make every effort to explain and educate our clients in particular legalese so that they can make informed and intelligent decisions.
The attorneys of Rosemarie Tully, P.C. are admitted to practice in New York and Connecticut, and before the U.S. District Courts (Eastern and Southern in New York), the U.S. Court of Appeals for the Federal Circuit, and the Supreme Court of the United States. We hope you will seek our counsel if and when needed, and look forward to supporting you in achieving your goals.